No one logged in.
C-PORT Honors Industry Leader with Compass Rose Award
23-Jan-2013
C-PORT (Conference of Professional Operators for Response Towing) presented its Compass Rose Award to a deserving member of the marine assistance industry. "A compass rose shows true direction," explained Tina Cardone, Executive Director. "This award is presented to someone who is dedicated to making the marine assistance industry better through their hard work and desire to make boating an enjoyable experience for everyone they meet." This award was presented at the 26th Annual C-PORT Conference held January 13-January 15, 2013 at Clearwater Beach, FL.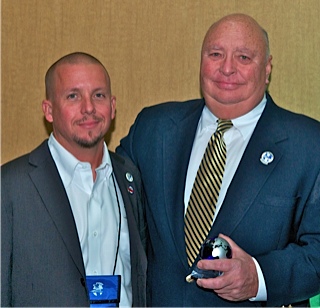 Chris Shaffner, C-PORT Chairman, presented the award. "It is a privilege to present this award to Captain Joe Frohnhoefer, founder of Sea Tow International," Shaffner stated. Quoting from the nomination received, Shaffner went on to say, "He is one of the pioneers, back in 1983 blazing new territory with the U.S. Coast Guard and working with Congress. He continues to do so today." Frohnhoefer is committed to making boating a more enjoyable experience for all on the water.
Joe Frohnhoefer is Sea Tow International's founding CEO and serves as a C-PORT Director. He was appointed to TSAC (Towing Safety Advisory Committee), a committee that serves to advise the Secretary of Transportation, via the Commandant, U.S. Coast Guard, on matters relating to shallow-draft inland and coastal waterway navigation and towing safety. In addition, Frohnhoefer is an avid boater and staunch supporter of boating safety.
---