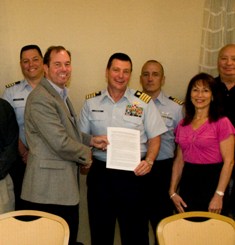 Tina Cardone, Executive Director, C-PORT (Conference of Professional Operators for Response Towing) is pleased to announce the ratification of a new Memorandum of Understanding Between US Coast Guard and C-PORT Regarding a Marine Assistance Industry Quality Partnership. The Memorandum of Understanding (MOU) states, "The purpose of the partnership is to improve effectiveness of maritime safety, security, and response and to promote and strengthen the communication and working relationship between the parties and to support the protection of marine environments." Cardone notes, "The last agreement was signed in the late 1990's. This updated agreement reflects the growth of the marine assistance industry and the changes that have occurred in the structure of the US Coast Guard."
Rear Admiral Brian M. Salerno, US Coast Guard, Assistant Commandant for Marine Safety, Security and Stewardship and Rear Admiral Vincent B. Atkins, US Coast Guard, Assistant Commandant for Capability signed the document. Rear Admiral Salerno is responsible for developing and promulgating national marine safety, security and environmental protection doctrine, policy, and regulations, as well as ensuring policy alignment throughout the Coast Guard and among federal and international partners. Rear Admiral Atkins is responsible for identifying and providing service-wide capabilities, competencies, and capacity; and for developing standards for the staffing, training, equipping, sustaining, maintaining, and employing Coast Guard forces to meet mission requirements. Captain David McBride, US Coast Guard, Chief of Office of Search and Rescue and Tina Cardone, Executive Director, C-PORT are the named points of contact for the administration of the MOU.
Signing the MOU on behalf of C-PORT is Terry Hill, immediate past Chairman, C-PORT. Under Hill's leadership, C-PORT entered a new era of partnership and development. "Today there are over 250 marine assistance companies providing 24 hour, 365 day a year service performing over 120,000 towing cases each year and salvaging tens of thousands of vessels saving millions of dollars in damages for owners and insurance companies nationwide," states Cardone. "Terry Hill helped keep the marine assistance industry focused and we are grateful for his leadership."
Now under the dedicated leadership of Chris Shaffner, C-PORT continues its growth and development. Shaffner is best known in the industry for his leadership and direction in spearheading the repeal of the Florida Wreckers Law. His focus for 2010 is standards and
education continuing the growth and development of the marine assistance industry. "Terry worked hard to bring the new US Coast Guard partnership agreement to fruition," comments Shaffner. "I look forward to the next step, helping the industry develop partnerships with state and local agencies as well."
C-PORT was founded in 1985 to act as a liaison between the marine assistance industry and public agencies and organizations involved with boating safety, marine assistance, marine salvage and other marine-related operations. The association was created in part to afford a means of cooperation with the government in matters of national concern; to provide an objective, self-regulating body for the marine assistance industry; and to promote, through legislative, regulatory, and governmental initiatives, the maintenance and expansion of the marine assistance industry. For more information, contact C-PORT at (954) 261-2012 or visit www.cport.us.